Hyderabad News: Latest Hyderabad News Headlines & Live News Updates from Hyderabad – Times of India
Multiple Sclerosis (MS) is a disease of the central nervous system that disrupts the flow of information within the brain, and between the brain and the body. This autoimmune disease affects principally the central nervous system that cause nerve sheath demyelination followed by axon damage and paralysis.
To spread awareness about this disease, The Times of India in association with MSN Laboratories organized a webinar on 'Invisible Symptoms of Multiple Sclerosis' in eight cities, on World of MS Day on May 30.
Though its prevalence was more in the West till a few years ago, India is seeing a gradual increase in cases over the past few years. MS affects the central nervous system, especially the brain, spinal cord, and optic nerves and comes with a wide range of symptoms.
Gradually Increasing Incidence
Dr. H Radha Krishna, MD DM, HOD, Care Hospital, Nampally, states, "MS is not as rare as earlier. I see at least one new case every month. But newer molecules, more affordable ones, make treatment and relief possible if one goes to a neurologist early enough; "In fact, just today we saw a case of a 23-year old, who has already had it for six months. We did an MRI and found lesions." A neurologist spends time understanding each symptom, and only then is he sure that this is indeed a case of MS.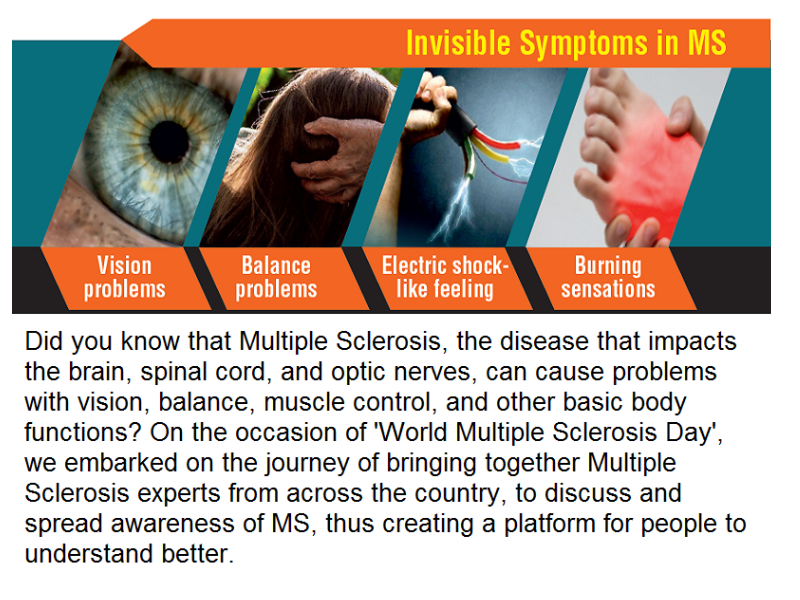 Symptoms
Dr. Nikileswar Reddy, MD DM, Associate Professor, Citi Neuro Center, Hyderabad, says while the initial symptoms could be common ones, like numbness, pain, giddiness, the MS onset is sudden, and often rapid. "Also, usually it is a combination, onset of visual loss in one eye, called Optic Neuritis. Isolated pain, sensory disturbances, numbness, bilateral lower limb weakness, acute urinary retention with constipation, these are some of the symptoms one may sense early."
Even today, no one is sure why the body is attacking itself in Multiple Sclerosis. "But MS is not contagious or directly inherited. So anybody who is taking care of the patient…
---
If you want to read the full article please click on source Link.
Publisher: timesofindia.indiatimes.com
Source link
(image from source link)
---
Disclaimer: This news is auto-aggregated by a computer program and has not been created or edited by MintNews24.
---